Ian Russell Gallery of Fine Art
Ian Russell Gallery of Fine Art
About the Gallery
With more than 20 years of gallery experience, Ian Russell works tirelessly to bring you art that inspires imagination and celebrates established and emerging artists. Since 2007, Ian Russell Gallery of Fine Art features greater than 40 local, national, and international artists making a home in historic downtown Prescott.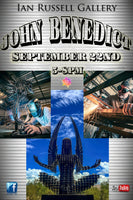 The Ian Russell Gallery is excited to announce September's feature artist is John Benedict!
John creates amazing metal art sculptures, wall hangings, chess sets, steampunk critters and more!
Click here to see John Benedict's work!!!
Testimonials
A fun and funky gallery with a whole different flavor. The house jeweler is amazing and handcrafted the most beautiful pair of earrings for my wedding. I love that they offer tons of affordable prints and tile reproductions so that anyone can own art. Everytime we walk in, it's a treasure trove of new pieces and even new artists. Ian Russell's has been our family's favorite gallery in Prescott for years!

Kate Buccigross
Ian Russell art is the modern Van Gogh! His characters are captivating and draw you in with relatability. Within moments you begin to see more than just a picture of a person, you begin to see expressions on their face that elicit emotion such as joy, pain, fear, loss, you can feel the character development unfolding, and for a brief moment you feel as if you've known that person in his art!

Michael Wilbanks
Fun & eclectic with changing stock of both local and national artists. A lot to see - keep your eyes open 'cause something in a corner will grab your attention. Exactly what you would hope to find in Prescott.

Emory Ellsworth
The gallery workers are very friendly and knowledgeable about every piece of art in the store. We went in browsing around and bought an amazing David Lozeau 1/40 and signed by the artist! I will definetly be making a trip back for more beautiful art from this gallery!

Sara Adams
Our Favorite gallery. Our favorite artists and the staff knows the artists work very well. They are also very friendly!

Shelly Leonberger
Lovely gallery proudly showcasing amazing artists. If you are looking for something different this is your huckleberry!

Ms. Ketchikan