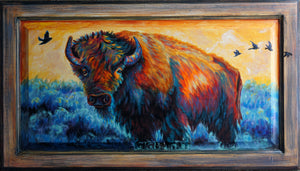 Mmmmmmm.  It represents the quintessential setting for a bison to live.  A beautiful big field full of sage and mountains surrounded by other birds and creatures.  Abundance.  What does your paradise look like?  How can you take steps right now to move towards it?  Are you already there?  
Meg loves to paint her original works of art on uniquely recycled items.
This original is painted on a cabinet door measuring 19" long x 33" tall.