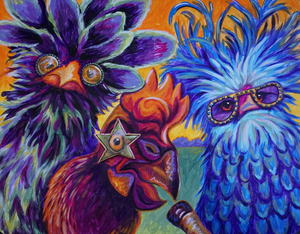 One night an idea came to me. . . That little voice in my head said -  Do a series of very funny rock star chickens and call them cock stars.  Of course I laughed at the idea and the rest is history or herstory as I like to say!  The band's name is Chicks Dig Me with band members PeX, Strut, and Kluk.  
.
THIS PAINTING CAN HANG OUTSIDE
.
Meg loves to paint her original works of art on uniquely recycled items.
This original is painted on a street sign measuring 36" long x 36" tall.