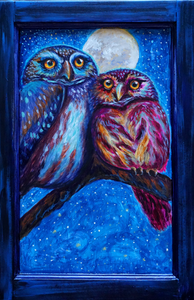 These are very in love Pygmy owls.  They are the smallest of owls and are also on the endangered list.  They only weigh 3 ounces and live in the beds of saguaro cactuses. Our Sonoran desert is so incredible!! 
Meg loves to paint her original works of art on uniquely recycled items.
This original is painted on a cabinet door measuring 17" long x 24" tall.