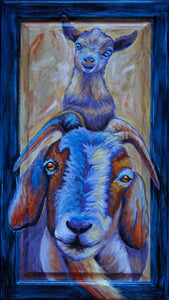 Goats are so frikin' cute, interactive and playful.  This painting is inspired by Animal Guardian Network in Camp Verde, AZ.  I volunteered there recently and so enjoyed being in and around the goats.  This guy loved me so much!  
Meg loves to paint her original works of art on uniquely recycled items.
This original is painted on a cabinet door measuring 19" long x 34" tall.