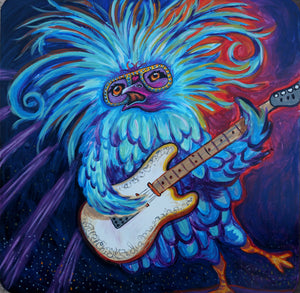 Lead Guitarist "PeX" is featured here jamming out on his guitar which features the band's name on the bottom.  He reminds us to play full out  and Jam on it like nobody's watching!  This painting is part of a triptik with Cock Stars and Peace Out.  It can be sold as a single or part of the series. 
.
THIS PAINTING CAN HANG OUTSIDE
.
Meg loves to paint her original works of art on uniquely recycled items.
This original is painted on a street sign measuring 30" long x 30" tall.