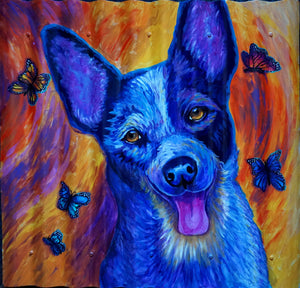 I also wanted to call this piece "dog and butterflies" from that great song in the 70's.  It's about miracles and how to create them using your thoughts and words.  Remind yourself to be open to possibility and see the world transform.

THIS PAINTING CAN HANG OUTSIDE.
Meg loves to paint her original works of art on uniquely recycled items.
This original is painted on a corrugated tin measuring 26" long x 25" tall.