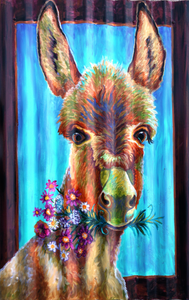 This phrase was loosely translated from a quote by John Lennon.  This corrugated tin painting is all about growing love in this world.  We need all we can get!  Be it. Grow it.  Give it.  
.
THIS PAINTING CAN HANG OUTSIDE.
.
Meg loves to paint her original works of art on uniquely recycled items.
This original is painted on a corrugated tin measuring 26" long x 40" tall.