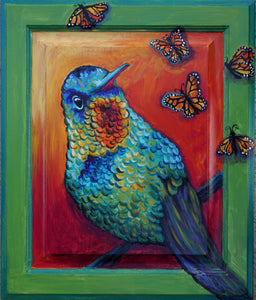 Hummingbirds are magic and I love them so much.  I have 3 feeders in my backyard and watching them is amazing!  I thought I'd throw a bit more fairy dust on this painting and add butterflies.  They are so essential to our ecosystem and fabulous in every way! 
Meg loves to paint her original works of art on uniquely recycled items.
This original is painted on a cabinet door measuring 18" long x 22" tall.