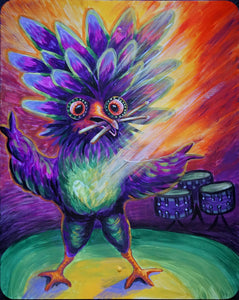 Drummer "Strut" is featured here after a long bad ass solo and his fifth oncore.  He sends his adoring fans his message of peace and hopes to inspire them with his prowess on the drums.  This painting can be sold as a single or part of the series. 
.
THIS PAINTING CAN HANG OUTSIDE
.
Meg loves to paint her original works of art on uniquely recycled items.
This original is painted on a street sign measuring 24" long x 30" tall.