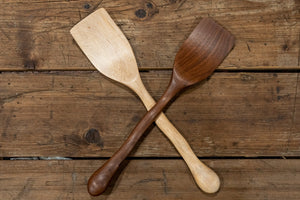 Item is approximately 11-13" in length.
These kitchen utensils have been handcrafted from scraps of salvaged hardwoods that would otherwise have gone to the landfill or been burned. The beautiful array of colors you see are all natural. No stains have been used. Each piece has been carefully finished and oiled with a combination of mineral oil and beeswax.
Care and Cleaning Instructions:
- Do not wash in dishwasher
- Wash by hand in hot soapy water and dry immediately
- Oil periodically with mineral oil
- If necessary, sand lightly with fine sandpaper or scotch brite pad and oil to maintain smooth finish.
Note: All pieces are handmade and will have slight variations in production. Image is an example of this piece of work. Please allow up to 4-6 weeks for production and delivery.