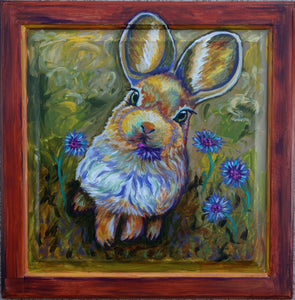 Welcome to the smallest rabbit on the planet, the pygmy rabbit, who also happens to be on the endangered list.  This tiny bunny weighs only one to two pounds.  Fires in the prairies they lived in demolished their sagebrush habitat.  
Meg loves to paint her original works of art on uniquely recycled items.
This original is painted on a cabinet door measuring 22" long x 22" tall.