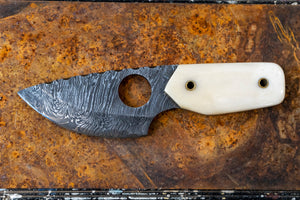 Item is approximately 7" in length.
Care and Cleaning Recommendations:
This is both a high carbon non magnetic & low carbon magnetic steel that is folded together then acid dipped to reveal the design. The high carbon combination of these steels allows for a naturally occurring rust that can easily be discouraged by regular oiling. Clean with soft cloth and oil every 3-4 months with WD40 or gun/knife lubricating oil.

Sharpening Recommendations:
The combination of steels is harder and stronger than traditional knives and holds its edge longer, which makes it a favorite for hunting. Due to its harder edge, sharpening requires special tools or professional sharpening, though with much less frequency. It is recommended to use a 3-Stage sharpening tool that starts with 100% diamonds in Stage 1, super-hardened sharpening steel in Stage 2 and flexible stropping disks in Stage 3 (like Chef's Choice Professional Sharpening Station Model 130), or take to a professional that specializes in sharpening higher end Damascus.